Features







Powerful features that put accessibility first
Before Formally you had to choose between accessibility, functionality, and cost. Now you can use powerful, affordable features to make forms that are easy and enjoyable for everyone to complete.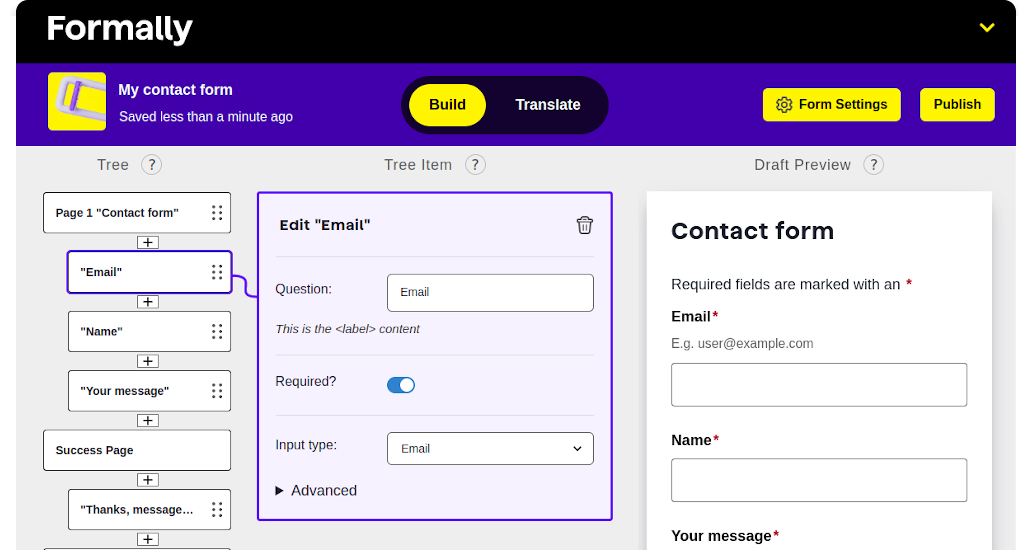 Accessible by default
Make forms that are better for everyone with features that meet the highest Web Content Accessibility Guidelines (WCAG 2.1 AAA).
Form features:
are screen reader friendly
use labels, hints, fieldset grouping, and error summaries
have high contrast colours
support dynamic heading levels that fit into your page
can be navigated using only a keyboard.
Features for every level
Use the drag and drop editor for an easy, no code form builder, or expand Formally's capabilities with code. Custom features like auto suggest are ready to be wired up to your own API, which saves you and your audience time.
Customisable with CSS
Use our default form style or your own design system. If you code, you can control the appearance of your forms with CSS and React SDK custom components.
Multiple languages made simple
Ask questions in any language, without having to manually recreate every form. We are working on a language library of popular presets, but you will always need to translate the personalised questions you ask.
Easy to embed
Share your forms on your site with or without iframes, or use React SDK if you're familiar with code.
Quick load time
Deliver quick and reliable forms to people, whatever their location. We use Amazon AWS which loads forms using the closest server to your customer.
Custom webhooks
Take control of the data you collect by storing your form submissions on your own database, or stick with our servers.
Secure data storage
Build trust and maintain privacy by keeping the data you collect to yourself. You can choose to bring your own data and file storage systems, or use our secure data storage.

And more!
There are many more features.. browse our documentation to learn about more Formally features